Antibiotic resistance is a global threat
Antimicrobial and antibiotic resistance represent a serious global threat to human health. Antibiotic resistance interferes with the medical treatment operated against certain diseases by affecting the final outcome of recovery. Along with the mentioned effects, there are many issues indirectly related to the problem, for example, the elevated health care costs related to hospitalizations and treatment.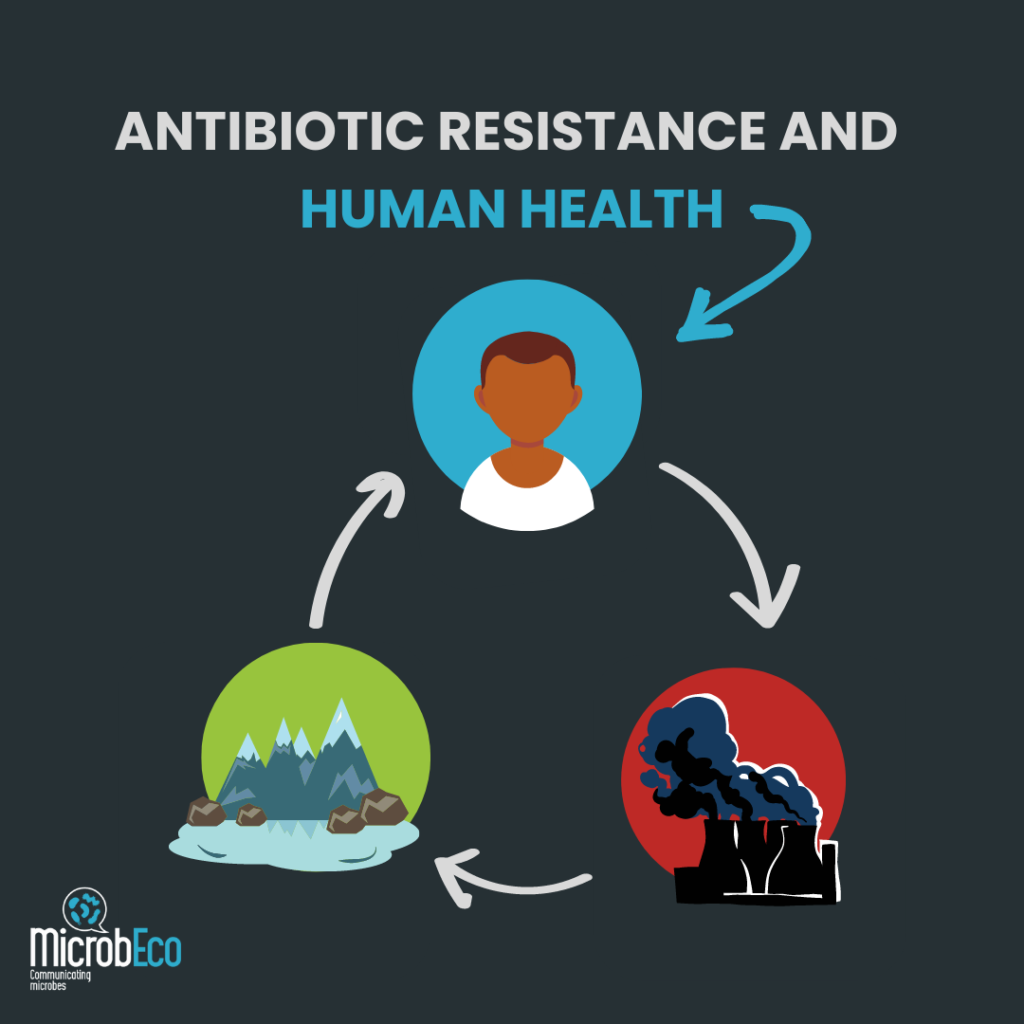 Causes of antibiotic resistance and inactivation of antibiotic function
The causes of the spread of antibiotic resistance are multiple and – as mentioned earlier in the article 'Antibiotic resistance between origins, causes and effects' – can be divided into two groups: causes of natural origin and causes due to human activity.
On the one hand, there is 'innate' resistance due to the presence or absence of certain particular structures that make antibiotics ineffective, as well as the ability of bacteria to transfer antibiotic resistance genes (ARGs); on the other hand, bacteria can acquire resistance ex novo through mutations, horizontal chromosome gene transfer or plasmids.
Several mechanisms can lead to antibiotic resistance and these mechanisms are classified into three main mechanical groups of resistance (Blair et al, 2015):
reduction of intracellular antibiotic concentrations through reduction or mutation of efflux pumps and porins;
modification of the antibiotic's target through spontaneous mutations or post-translational modifications;
inactivation of the antibiotic by transfer of chemical groups to vulnerable sites or destruction by hydrolysis (Huemer et al.; 2020).
Anthropogenic causes
Focusing on antibiotic resistance acquired as a result of anthropogenic activities the main issues concern the use and misuse of antibiotics.
Among the main causes of this phenomenon is self-medication, a process whereby individuals consume drugs based on their own knowledge without consulting a doctor.
In addition, as explained in the article by Nadgir et al. published in the medical journal Cureus in April 2023, approximately 30 per cent of antibiotic prescriptions are unnecessary or incorrect. For this reason, infections caused by antibiotic-resistant bacteria have become increasingly frequent and difficult to combat.
Clearly, there are also other causes:
poor hygiene in daily life or in hospitals;
overuse of antibiotics in agriculture;
travel that can lead to the spread of resistant bacteria and genes;
lack of sanitation causing contamination of water systems;
lack of rapid diagnostics to help medical personnel implement the correct treatment.
Effects and impact of antibiotic resistance
As reported by Nadgir et al., since 2013, the US Centres for Disease Control and Prevention have reported an increase in several serious MDR bacterial infections, including a 315% increase in erythromycin-resistant Group A Streptococcus, a 124% increase in resistant N. gonorrhoeae, and a 50% increase in extended-spectrum β-lactamase-producing Enterobacteriaceae. Vancomycin-resistant S. aureus showed a 3.5% increase between 2006 and 2020, and multidrug-resistant tuberculosis (MDR-TB) infected about 3.4% of new tuberculosis (TB) cases in 2018 and 18% of previously treated cases.
It must also be remembered that the effects resulting from the spread of antibiotic-resistant bacteria are not only direct but also indirect. For example, hospital stays increase and the likelihood of all patients becoming infected increases, second- and third-line antibiotics become necessary, which are more expensive, more dangerous and more difficult to obtain for developing countries, and surgery, organ transplants and chemotherapy become more complex.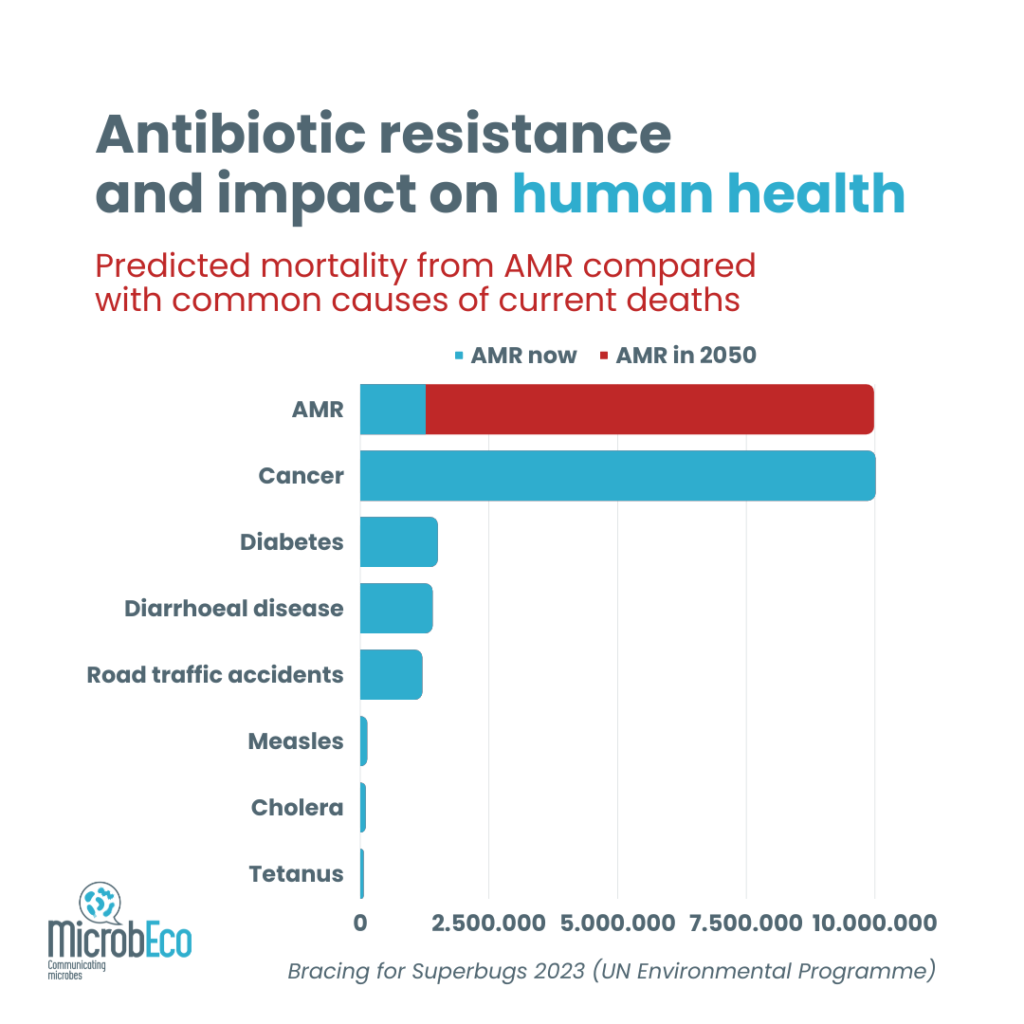 Economic and social impact
The enormous economic impact of the antibiotic resistance phenomenon should not be underestimated. In general, a longer duration of illness and treatment increases healthcare costs for families and societies. The CDC has estimated that the cost of antimicrobial resistance is USD 55 billion per year in the US, of which USD 20 billion is for healthcare and about USD 35 billion for lost productivity. The World Health Organisation estimates that antimicrobial resistance will cost the global economy $100 trillion by 2050.
The food sector is also affected economically. Indeed, the increase in antibiotic resistance renders animal treatments ineffective, resulting in a decrease in livestock production and trade and an increase in prices.
Of particular importance is the gap resulting from antibiotic resistance between developing and developed countries due to the inaccessibility of the former to hard-to-find drugs, but also due to the lack of suitable hospital facilities.
An interesting study by Matee et al. published in the Bulletin of the National Research Centre in January 2023, assessed the impact of antibiotic resistance and its adequate surveillance in Kenya, Tanzania, Uganda and Zambia. The results indicate that in these four countries there has been a significant increase in resistance to commonly used antibiotics such as ampicillin, tetracycline, gentamicin, ciprofloxacin and cephalosporins over time with a massive spread of Acinetobacter spp., Pseudomonas spp., ESBL-producing Enterobacterales and Staphylococcus aureus.
Prevention, surveillance and awareness to combat antibiotic resistance
Antibiotic resistance is a global problem that is already well established but which, if left unchecked, could still worsen. For this reason, the most appropriate tools to prevent a rapid worsening can be classified into 3 actions:
prevention;
surveillance;
public awareness.
Prevention
With regard to prevention, the necessary actions to be taken are both individual and collective.
As ordinary citizens, it is good to observe hygiene rules and above all to rely on medical advice. The latter should in turn act according to current guidelines and prescribe antibiotics only when necessary. Doctors should also inform patients about the risks of antibiotic abuse in objective and calm language.
Such precautions are also applicable to farms, where veterinary surgeons must consciously advise.
Vaccines are of enormous importance in this context and must be regularly checked and carried out where necessary. Appropriate vaccination campaigns can save the lives not only of individuals but also of the entire community.
Scientists, on the other hand, have the task of continuing to study the mechanisms by which antibiotic-resistant bacteria develop and ways to stop the phenomenon, including the development of new therapies and vaccines.
Surveillance
No preventive or therapeutic action can be implemented without having a complete and comprehensive picture of the global situation. The data that are periodically collected by surveillance systems serve to implement appropriate medical practices but also to get an idea of the impact of human actions.
In 2015, WHO Member States initiated a Global Action Plan to address antimicrobial resistance and on 22 October 2015, WHO launched the Global Surveillance of Antimicrobial Use and Resistance System (GLASS). GLASS was created with the aim to globally standardise actions to counter the phenomenon, strengthen prior knowledge and close knowledge gaps.
As mentioned above, it is necessary for surveillance systems to be uniformly applied to all states in order to achieve fruitful, fair and ethical monitoring.
Public awareness
Although awareness-raising campaigns do not directly address the phenomenon, spreading knowledge about it can have a very significant impact. Every year, starting in 2015, from 18 to 24 November, World Antimicrobial Awareness Week is organised, a global campaign aimed at raising awareness and encouraging the implementation of good practices.
Individual states should also propose days to discuss the phenomenon by encouraging citizens and health professionals to participate. Fundamental is also the role of schools, an environment where teachings find fertile ground in children's minds.
Sources
Dadgostar et al.; "Antimicrobial Resistance: Implications and Costs", 2019; doi: 10.2147/IDR.S234610
Adebisi et al.; "Balancing the risks and benefits of antibiotic use in a globalized world: the ethics of antimicrobial resistance", 2023; doi: 10.1186/s12992-023-00930-z
Sara Hernando-Amado et al.; "Antibiotic Resistance: Moving From Individual Health Norms to Social Norms in One Health and Global Health", 2020; doi: 10.3389/fmicb.2020.01914
Huemer et al.; "Antibiotic resistance and persistence—Implications for human health and treatment perspectives", 2020; doi: 10.15252/embr.202051034
Nadgir et al.; "Antibiotic Resistance and Its Impact on Disease Management", 2023; doi: 10.7759/cureus.38251
Chinemerem Nwobodo et al.; "Antibiotic resistance: The challenges and some emerging strategies for tackling a global menace", 2022; doi: 10.1002/jcla.24655
Matee et al.; "Mapping and gap analysis on antimicrobial resistance surveillance systems in Kenya, Tanzania, Uganda and Zambia", 2023; doi: 10.1186/s42269-023-00986-2
https://www.ecdc.europa.eu/en/publications-data/antimicrobial-resistance-surveillance-europe-2023-2021-data